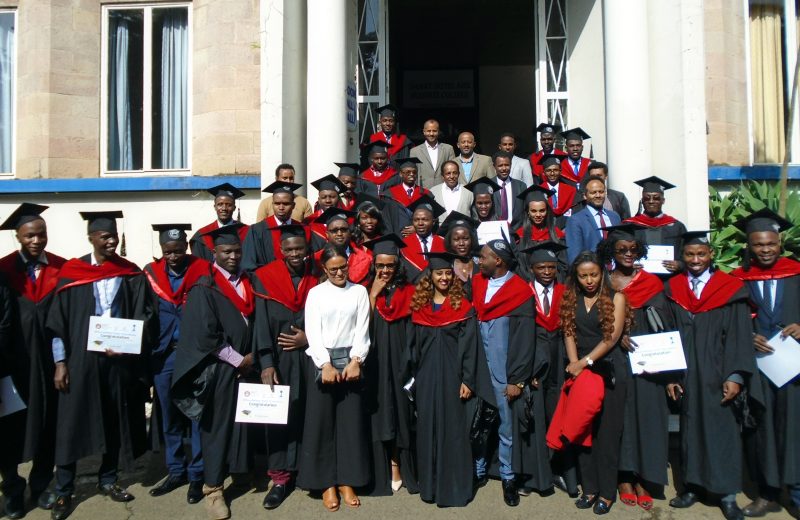 ARCE Graduation Ceremony 2019
On 14 July – 2019, African Railway Center of Excellence held its graduation ceremony for nearly 45 MSc. students from 6 countries, the Class of 2019, at the Awash Hall, Ghion Hotel, Addis Ababa, Ethiopia.
During the graduation ceremony of African Railway Center of Excellence at Addis Ababa Institute of Technology, Addis Ababa University, 45 students from 6 countries of the African Continent, have received their Master's Degree in different stream of Railway Engineering: Civil Infrastructure, Rolling Stock and Traction and Train Control.
The graduates' commencement was performed by Dr. Essayas Gebreyohannes, Executive Director of AAiT in the rank of Vice President of Addis Ababa University. During the ceremony individual students were also recognized for their outstanding overall academic performance of regional students on their individual study programs. As far as regional students are concerned, Phelomera Nyakanja (Rolling Stock, MSc.) and Francis Wotawo (Civil Infrastructure, MSc.) were recognized as top students of the center. The ceremony was concluded by Dr. Abrham Gebre, Director of African Railway Center of Excellence.
The Chief Guest Dr. Essayas Gebreyohannes in his address he pointed out that Learning is a Continuous Process by the hard work and dedication by instructors in shaping the graduates as a responsible citizens of the continent. ARCE is also maintaining high standards in education and helping for molding the young graduates to the regional society.
The Center Director, Dr. Abrham Gebre declared the graduation ceremony open and in his address he congratulated the graduates. In his speech, he also pointed out students would be participating and finding the solutions for the problems faced by their field of specialization and Railway industries.
Dr. Ing. Eshete Berhan, the AAiT Management Representative presented the top scorers of each department who received the degree and certificates from the Chief Guest.
Mr. John Chrysostom (MSc. Civil Infrastructure), Students' Representative delivered the vote of thanks and express his sentiments using "we get wisdoms since our learning now lets serve humanity".
Moreover, parents expressed joyful gratitude to the World Bank, ARCE and the management of AAiT in molding their Youngsters' as professionals in the course of study in the Center.
Over 150 distinguished guests, family and friends attended the ceremony to share in the success of our graduates. The management and staff of AAiT wish all our graduates success in their future careers or studies, and the Center proudly congratulate them on their academic achievements and successful graduation from ARCE.